About Cognizant: Intro
We believe that the tech services industry is the most exciting and innovative sector to work in right now.
Cognizant, as one of the world's leading technology and professional services companies, is at this industry's heart.
Our company, and notably our business in the UK and Ireland, is continuing to grow rapidly. To support that growth, we are looking to hire a dynamic, commercial in-house lawyer to join our UK and Ireland Commercial Legal team and be part of our vibrant organisation.
As a Nasdaq-100 and a Fortune 500 company with $18B revenue, Cognizant places great value on its global Legal function.
About the Legal Team
You will be joining our UK and Irish Commercial Legal team of around 12 lawyers and will be part of a wider EMEA team of around 60 lawyers in 13 countries across the EMEA region.
All of us are talented commercial and technology lawyers. But we also have specialists in many fields, including privacy, employment law, M&A, and corporate compliance.
The role: Senior Legal Counsel
You will work primarily in the United Kingdom and Ireland, while also collaborating with colleagues abroad to deliver digital and information technology solutions for our internal and external customers.
As a trusted business advisor, you will:
Negotiate services agreements with Cognizant's clients, from high value MSAs and bespoke complex/strategic deals, to statements of work, subcontracts, partnering and reseller agreements
Have exposure to stakeholders at the top of our organisation and represent our Legal team both internally and externally
Advise your business colleagues across the organisation on various ad hoc legal questions, including compliance, intellectual property, privacy, litigation, and employment
Support Cognizant leadership on the management of high-risk issues
Provide pragmatic legal support at all stages of the contracting process, helping our business to succeed at the right level of risk for our company
Support on ad hoc strategic legal/commercial projects
Create and provide legal training to business colleagues on key risk issues
Collaborate with fellow lawyers in our global team to develop and improve how we contract, and how we navigate and address the legal risk
Mentor and supervise junior team members
Requirements
The team is looking for a commercial lawyer with experience related to the Technology sector. Someone with a strong commercial mindset capable of balancing legal risks with commercial and operational needs of the business.
They would welcome someone who thrives in a diverse and dynamic working environment, someone who is culturally flexible and able to work with people of a variety of backgrounds and is comfortable with exposure to senior leadership.
What you'll get in return
Competitive remuneration (base salary + bonus + benefits)
Opportunities to progress in your career and develop professionally
High degree of trust and autonomy whilst being part of a collaborative team
A highly supportive, friendly and collegiate legal team
Opportunities to get involved in pro-bono and charity work, with the support of the company to make this a valued part of your role
Benefits
Healthcare – free to join for you and any family members (partner/children)
Critical illness cover
Dental Insurance
Gymflex – up to 40% discount
Bike to work
Healthcare loan
Workplace savings and financial advice
Up to 30% discount off BMW
Voluntary BUPA Cash Plan (health plan working on a reimbursement basis)
Green car leasing scheme
Eldercare – support services
Best Doctors – service connecting you to medical professionals
Health Assessment (Nuffield Health – also available to associates partner)
20% discount off Dell
15% discount on Vodafone (and can add up to 5 family or friends)
Up to 40% on Jabra
10% discount on Lenovo notebook and desktop
Discounts and benefits available with Apple
Eye Tests
Cognizant Discount – access to more than 3000 offers on various brands
Dining card
Employee assistance programme and wellbeing HUB – access to advice and free counselling.
Flexible Working Options
Hybrid working – you can work mostly remotely, with a few days a month in the office (or more if you prefer)
Flex Hours – you can request flexibility to work part-time or to work during term time
About Cognizant: More Info
Aston Martin Cognizant Formula One™ Team
Cognizant is Aston Martin's Formula One title and digital transformation partner. The team is now officially known as Aston Martin Cognizant Formula One™ Team.
"The multi-year association brings real energy to the new era of Aston Martin in Formula One with Cognizant ideally placed to empower the team with the best IT infrastructure and software solutions on the market."

Aston Martin's press release
Presidents Cup Global Partner (Golf) 2026
Gognizant has become third global partner for one of the premier events on the golf's global calendar.
Cognizant entered a multi-year partnership to be the Official Digital Transformation Partner of the elite global racing championship SailGP. Cognizant will leverage its digital transformation and software engineering expertise to improve audience insights, enable data visualization and create an immersive fan experience for the 257 million SailGP viewers worldwide.
Cognizant – SailGP's Official Digital Transformation Partner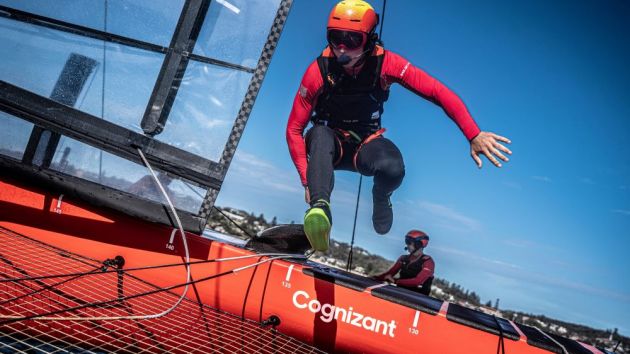 Products and Services
Cognizant provides information technology, information security, consulting, IT outsourcing and business process outsourcing services.
These include business & technology consulting, systems integration, application development & maintenance, IT infrastructure services, AI, digital engineering, Cloud, IoT, robotics, analytics, business intelligence, data warehousing, customer relationship management, supply chain management, engineering & manufacturing solutions, enterprise resource planning, research and development outsourcing and testing solutions.
Structure of Business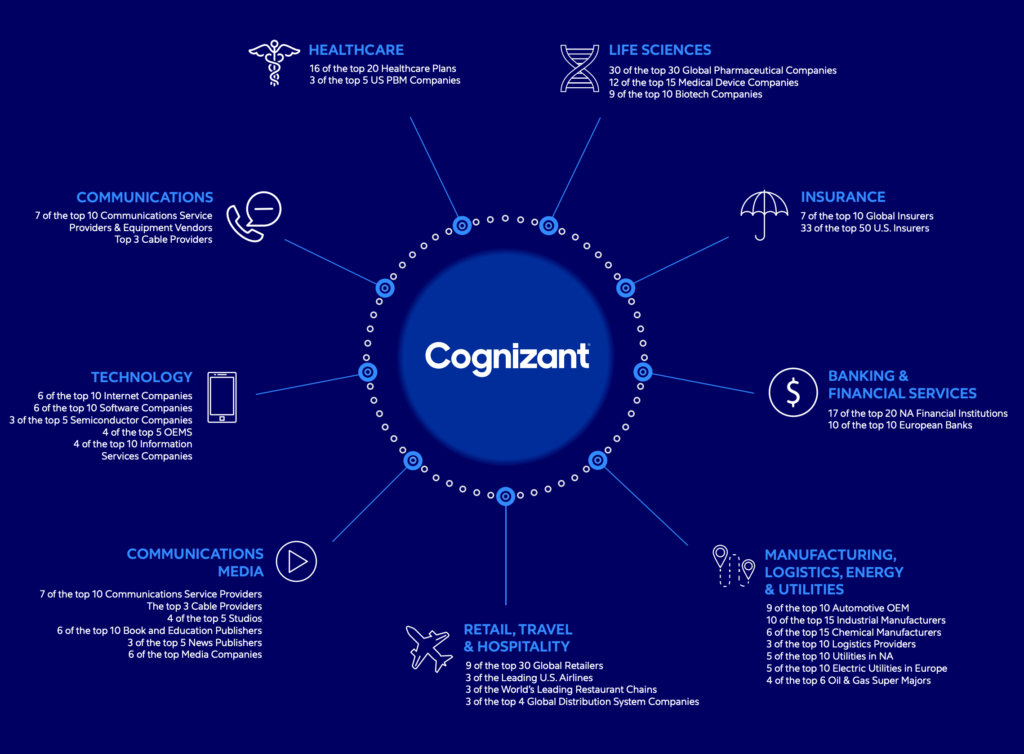 Cognizant has expertise in over 20 industries and is organised into 4 industry verticals and 3 practice area horizontals.
The four industry verticals are: Financial Service, Healthcare and Life Sciences, Products and Resources and Communications, Media and Technology.
Recognised as a Leader
Ranked in Forbes Top 100 Digital Companies
A Fortune 500 business
Named in the list of Financial Times Leading Management Consultants
Named among World's Most Admired Companies by Fortune
An HFS Winner's Circle service provider in Software Product Engineering
A Leader in Everest Group DevOps Services PEAK MatrixTM 2019
Leader in ISG's Provider LensTM Private/Hybrid Cloud—Data Center Services and Solutions 2019
Cognizant is named among Top 10 Internet of Things (IoT) Service Providers by HFS as having "End-to-end transformational and outcome-focused capabilities across the value chain using its IP and frameworks to solve business problems".
Cognizant is named a Leader in the Healthcare Provider Digital Services PEAK Matrix Assessment 2020 by analyst firm Everest Group. Cognizant's strong industry presence, domain expertise and partnership strategy aimed at expanding its capabilities to the digital healthcare provider market were highlighted as key contributors to its leadership.
Cognizant is recognised as a Leader in Gartner's 2020 Magic Quadrant for Public Cloud Infrastructure Professional and Managed Services, worldwide. Cognizant has tremendous momentum in cloud as companies modernise infrastructures and applications to accelerate innovation, become more agile in the face of business uncertainty, and reinvent their businesses for the new normal.
Cognizant s named a leader among SAP service providers for midsize enterprises by Forrester Research. In the Forrester Wave™ report Cognizant received the highest possible scores in 17 criteria, including implementation services, ongoing support services, S/4HANA capabilities, innovation roadmap, commercial model, partner ecosystem, number of SAP clients, geographic breadth of services and revenue from SAP services.
Cognizant is named a Leader among Digital Process Automation (DPA) service providers by Forrester Research. Cognizant received the highest score possible in ten criteria, including implementation and delivery models, innovation roadmap, partner ecosystem, commercial model, number of customers, and revenue.
Cognizant is recognised as an Artificial Intelligence (AI) services leader Forrester Research. In the Forrester Wave™ report Cognizant received the highest rating possible in the technology, deployment, and innovation roadmap criteria: Cognizant's significant investments into data science talent, industry expertise, design practices, and technology – including acquisitions – all contribute to a comprehensive AI offering that goes beyond data science and technology.
Great Timing and Opportunities
Cognizant's current focus is on strengthening its focus on Cloud, digital engineering, data and IoT with a particular emphasis on the UK and Europe, where it is growing faster than in other regions.
It is reflected by the global CEO of this US headquartered company now being based in London. This offers unique proximity and exposure to top company management and valuable opportunities for your career.
Your Contact
As we go through the recruitment process together you will receive full support from me: I will help you prepare for the interviews, tell you about the technical drafting test, brief you on what to expect in the process, what the interviewers' personalities are like, what is important to the team. I will do all I can to get you the best offer.