Hi
Welcome to your Cognizant Information Portal
About Cognizant
Cognizant is an American multinational product led digital corporation that provides digital products and digital IT services, including digital, technology, consulting, and operations services. Cognizant is a Fortune 200 company. It is part of the NASDAQ-100 and trades under CTSH.
It was founded as an in-house technology unit of Dun & Bradstreet in 1994 and started serving external clients in 1996. After a series of corporate re-organizations there was an initial public offering in 1998. Within 25 years Cognizant acquired about 75 businesses.
Cognizant's revenue for 2019 is 16.8 billion USD. Cognizant has seen its annual revenue grow by 266% over the last decade.
With headquarters in the US and a rapidly-expanding footprint that extends from the UK and Europe to India, China, North America, South America, and the Middle East, the business collaborates locally with clients, in person and in their local languages.
Top 20 World's Best Employer
Forbes Magazine ranks Cognizant Number 19 out of 750 companies across 45 countries in its World's Best Employers list.
For the 12th consecutive year, Cognizant has been named to Fortune Magazine's World's Most Admired Companies list.
Aston Martin Cognizant Formula One™ Team
Cognizant has been named Aston Martin's Formula One title and digital transformation partner. The team will officially now be known as Aston Martin Cognizant Formula One™ Team when they line up on the grid for this season.
"Cognizant will play a key role, not merely as a sponsor, nor even as a behind-the-scenes service provider, but as a true digital transformation partner.

The multi-year association brings real energy to the new era of Aston Martin in Formula One with Cognizant ideally placed to empower the team with the best IT infrastructure and software solutions on the market."

Aston Martin's press release
Products and Services
Cognizant provides information technology, information security, consulting, IT outsourcing and business process outsourcing services.
These include business & technology consulting, systems integration, application development & maintenance, IT infrastructure services, AI, digital engineering, Cloud, IoT, robotics, analytics, business intelligence, data warehousing, customer relationship management, supply chain management, engineering & manufacturing solutions, enterprise resource planning, research and development outsourcing and testing solutions.
Structure of Business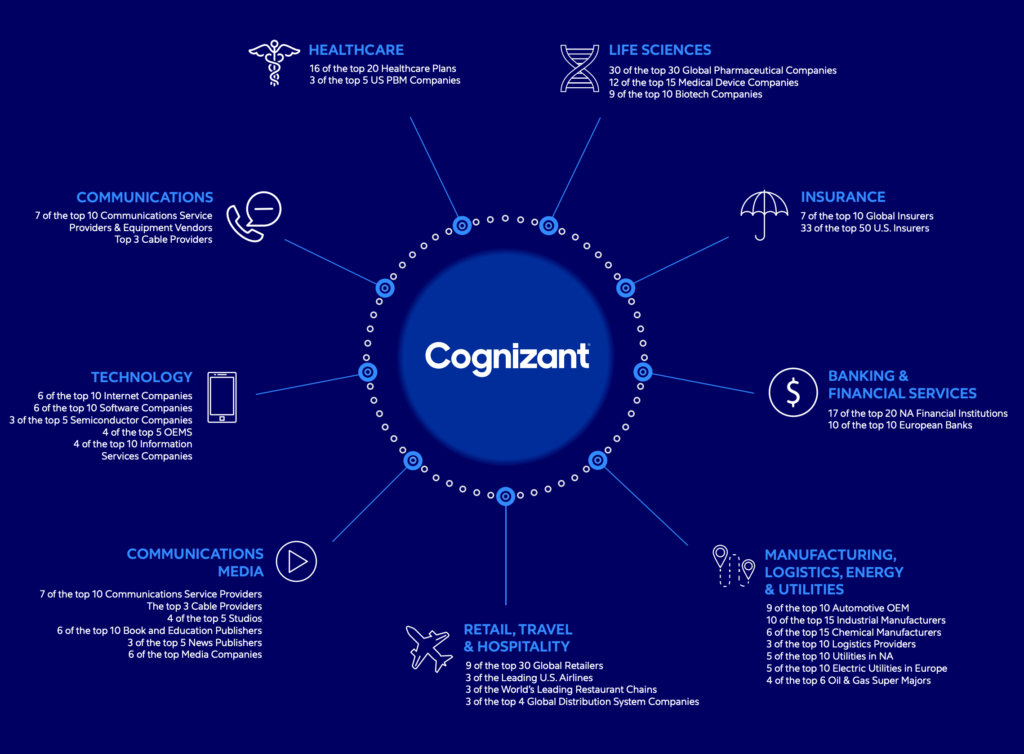 Cognizant has expertise in over 20 industries and is organised into 4 industry verticals and 3 practice area horizontals.
Industry Verticals
The four industry verticals are: Financial Service, Healthcare and Life Sciences, Products and Resources and Communications, Media and Technology.
The Financial Services segment includes customers providing banking/transaction processing, capital markets and insurance services. Cognizant works with 10 of the top 10 European Banks, 7 of the top 10 Global Insurers, 33 of the top 50 US Insurers and 17 of the top 20 North America Financial Institutions.
The Healthcare segment includes healthcare providers and payers, as well as life sciences customers, including pharmaceutical, biotech and medical device companies. Healthcare digital provider services represent a nearly $3 billion opportunity. This is a highly strategic segment to the business where it is doing really well with the opportunities in life sciences at the intersection point of biopharma, medical devices, right through to Industry 4.0 healthcare, retail, and health tech.
Cognizant works with all of the top 30 global pharmaceutical companies, 9 of the top 10 biotech companies and 12 of the top 15 medical device companies helping them implement cloud, artificial intelligence (AI), automation, internet of things (IoT) and other technologies across their value chains.
The global market size for life sciences digital services is estimated to grow at a rate of over 20 percent through 2021. The ability to leverage digital technologies, such as AI, automation, machine learning and the IoT within the life sciences industry will continue to create new opportunities for Cognizant, their clients and most importantly to improve health outcomes of patients.
The Manufacturing/Retail/Logistics segment includes manufacturers, retailers, travel and other hospitality customers, as well as customers providing logistics services. Cognizant works with 9 of the top 10 Automotive OEM (original equipment manufacturers), 10 of the top 15 Industrial Manufacturers, 6 of the top 15 Chemical Manufacturers, 3 of the top 10 Logistics Providers, 5 of the top 10 Utilities in North America, 5 of the top 10 Electric Utilities in Europe, 4 of the top 6 Oil & Gas Super Majors, 9 of the top 30 Global Retailers, 3 of the World's Leading Restaurant Chains and 3 of the top 4 Global Distribution System Companies.
The Communications, Media and Technology segment includes its information, media and entertainment services, communications and high technology operating segments. It is one of the fastest-growing business units in Cognizant.
At the moment Cognizant works with 7 of the top 10 Communications Service Providers, the top 3 Cable Providers, 6 of the top 10 Book and Education Publishers, 3 of the top 5 News Publishers, 6 top Media Companies, 6 of the top 10 Internet Companies, 6 of the top 10 Software Companies, 3 of the top 5 Semiconductor Companies, 4 of the top 5 OEMS, 4 of the top 10 Information Services Companies and 7 of the top 10 Communications Service Providers & Equipment Vendors.
Practice Areas
Cognizant has three practice areas (horizontals), which run across the company's industry verticals — Digital Business, Digital Operations, and Digital Systems & Technology.
Digital Business, which helps clients apply digital technology to transform their products and customer experiences, driving new levels of revenue growth and customer satisfaction.
Digital Operations, which helps clients infuse their business processes with agility, intelligence, and automation.
Digital Systems and Technology, which enables clients to build the adaptive, cloud-enabled, secure, and efficient technology backbone needed to run a modern digital enterprise.
Digital capabilities
Cognizant focus on digital technologies that will make clients modern, ensuring their relevance with key capabilities: Cloud, Artificial Intelligence, IoT and Software Engineering
IoT: Cognizant are preferred IoT partners for world leaders in automotive, banking, manufacturing, retail, consumer goods, and pharma:
– Top 5 IoT provider
– 6000 IoT engineers and designers.

AI: Cognizant Evolutionary AI™ is beating benchmarks and delivering more than alternatives like AutoML from Google and Microsoft.
– Providing intelligence results 10x faster
– Using just 1/20 of the data
– Cognizant data modernisation is 30%-60% faster than competitors'.

Software engineering: purpose-driven, we engineer software that solves human problems:
– Top 3 digital engineering services provider
– 12,500 software engineering experts
– ~2X reduction in time to market accelerating and de-risking execution for 170+ clients.

Cloud: Cognizant empower and expand clients' growth potential with cloud by shrinking data cycles
from 3 days to 3 minutes.
– 100+ in-house blueprints and accelerators
– 10-15% of our workforce trained on cloud
– 40,000+ cloud experts
– 600+ cloud-led transformation projects
– 25,000+ business-critical applications migrated.
Partnerships
Cognizant work with 41 strategic partner.
Some of Cognizant's key partnerships include Adobe, Amazon Web Systems, Cisco, Dell Technologies, Microsoft Azure, Google Cloud, IBM, Oracle, Salesforce, Workday, ServiceNow and SAP.
Recognised as a Leader
Ranked #19 in Forbes 2020 World's Best Employer
Ranked in Forbes Top 100 Digital Companies
A Fortune 200 business
Named in the list of Financial Times Leading Management Consultant
Named among World's Most Admired Companies by Fortune
An HFS Winner's Circle service provider in Software Product Engineering
A Leader in Everest Group DevOps Services PEAK MatrixTM 2019
Cognizant is named among Top 10 Internet of Things (IoT) Service Providers by HFS as having "End-to-end transformational and outcome-focused capabilities across the value chain using its IP and frameworks to solve business problems".
Cognizant is named a Leader in the Healthcare Provider Digital Services PEAK Matrix Assessment 2020 by analyst firm Everest Group. Cognizant's strong industry presence, domain expertise and partnership strategy aimed at expanding its capabilities to the digital healthcare provider market were highlighted as key contributors to its leadership.
Cognizant is recognised as a Leader in Gartner's 2020 Magic Quadrant for Public Cloud Infrastructure Professional and Managed Services, worldwide. Cognizant has tremendous momentum in cloud as companies modernise infrastructures and applications to accelerate innovation, become more agile in the face of business uncertainty, and reinvent their businesses for the new normal.
Cognizant s named a leader among SAP service providers for midsize enterprises by Forrester Research. In the Forrester Wave™ report Cognizant received the highest possible scores in 17 criteria, including implementation services, ongoing support services, S/4HANA capabilities, innovation roadmap, commercial model, partner ecosystem, number of SAP clients, geographic breadth of services and revenue from SAP services.
Cognizant is named a Leader among Digital Process Automation (DPA) service providers by Forrester Research. Cognizant received the highest score possible in ten criteria, including implementation and delivery models, innovation roadmap, partner ecosystem, commercial model, number of customers, and revenue.
Cognizant is recognised as an Artificial Intelligence (AI) services leader Forrester Research. In the Forrester Wave™ report Cognizant received the highest rating possible in the technology, deployment, and innovation roadmap criteria: Cognizant's significant investments into data science talent, industry expertise, design practices, and technology – including acquisitions – all contribute to a comprehensive AI offering that goes beyond data science and technology.
Great Timing and Opportunities
Cognizant's current focus is on strengthening its focus on Cloud, digital engineering, data and IoT with a particular emphasis on the UK and Europe, where it recognises strong market potential. It is reflected by the global CEO of this US headquartered company, Brian Humphries, now being based in London. This offers unique proximity and exposure to top company management and valuable opportunities for your career.
Cognizant's CEO Brian Humphries
Brian joined Cognizant in 2018 with the mission to transform the business into a global high performing leader. The business is executing on the CEO's vision extremely successfully.
"In the last six months we have overhauled our talent management and annual performance evaluation processes, which allows us to develop a diverse, inclusive and high performance team core talent is identified and nurtured for promotions.
Meanwhile, we have invested in growth by strengthening our country leadership, with senior hires in the UK, Germany, the Nordics, Australia and Asia Pacific, in Japan. Earlier this week, we also announced the completion of our executive committee with the announcement of our new president for global growth markets.
We've also rallied the organization by what we call the Cognizant agenda, which articulates our purpose, vision and values. Our vision is to become the preeminent technology services partner to the global 2000 C-suite. To achieve this, we are aligned behind a series of bold moves that require investments.
First, we will meaningfully increase investments in branding and marketing, including launching a breakthrough global brand campaign in the coming months. This campaign will reposition the Cognizant brand and will reach beyond our familiar technology audience to the entire C-suite, as well as the next generation of talent.
Second, we will continue to accelerate digital. Our priority areas of digital engineering, AI and analytics, cloud and IoT are more relevant than ever to clients. We aim to lead in the third phase of digital, which will require continued investment in M&A, our commercial and delivery capabilities, offer management talent and branding.
Third, we will continue to globalize Cognizant by investing for growth in targeted countries, strengthening our regional capabilities, scaling our brand internationally, and executing a global delivery network that will ensure greater resiliency in our delivery capabilities.
Fourth, we will continue to make investments that increase our relevance to clients by strengthening our industry expertise and technology consulting capabilities, investing in our talent, and extending our solution integrator and designer competency."
Legal Team
Cognizant's global legal team includes around 400 people. Along with the commercial and technology lawyers, the team includes specialists in many fields such as privacy, employment law, M&A, intellectual property and corporate compliance. The culture is client-first, entrepreneurial, collaborative, multicultural, fun and supportive of personal and professional development.
The Global Growth Markets (non-US) legal team is lead by General Counsel Simon White who previously worked at Clifford Chance and Morgan Lewis. Simon was hired by Cognizant as the first lawyer outside of the US in 2009 and his team has since grown from 1 to over 100 lawyers.
The hiring manager is Legal Director with approx 20 years of experience. who is a caring and supportive manager who gives plenty of room to grow, develop themselves and take more responsibility.
New Role – Legal Manager, Middle East
In this senior commercial legal role you will work closely with the business, senior management and other teams in the EMEA and around the world. You will be an integral part of the continued rapid growth of Cognizant's UK operations.
You will report to Legal Director based in London.
We are looking for an experienced Commercial Transactions Corporate Counsel who will be focused on a wide range of technology related commercial transactions.
Responsibilities include drafting, negotiating and interpreting a variety of commercial issues and transactions, including multi-million pound complex technology (robotics, cloud, etc.) or IT outsourcing agreements. You will work on all phases of deals, ranging from the proposal/bid review stages, through to final negotiation, escalation to senior Cognizant leadership and dealing with any post signature issues.
You will lead on a wide range of cross industry commercial IT complex framework contract negotiations (IT managed services, IT & data licensing, data storage, software/App development, systems integration, platform infrastructure development, data processing and security, all types of cloud services agreements, IoT, SaaS, PaaS, AI, and collaboration or R&D projects).
You will offer specialised legal advice, guidance, and legal and data security risk assessments to multiple stakeholders, whilst managing multiple cross industry work streams.
You will provide clear and accurate reports to senior leadership on risk, progress and performance. With time, you will supervise, mentor and manage more junior team members.
What you'll get in return
Excellent remuneration package (base salary + bonus + benefits including private pension, life assurance and private health cover).
Opportunities to progress in your career and develop professionally. Since the first non-US lawyer the non-US legal department grew from 5 to 100; the team keeps hiring more junior lawyers every year and that brings opportunities to supervise and manage others in the future, whether in the UK or offshore.
High degree of trust and autonomy whilst being part of a collaborative team
Flexible home-office / remote working policy with the office locations in Paddington and Ealing
A supportive, friendly, fun and hardworking legal team
Opportunities to get involved in pro-bono and charity work, with the support of the company to make this a valued part of your role
Your Contact
Mila Read
In-House Tech Legal Recruiter
Director, Found Legal

[email protected]
+447904848936